Por @latino.romano
Si me ocupara en medir con mis manos el límite de mis angustias, me faltarían cientos de metros de dedos y palmas para satisfacer la demanda.
Si quisiera cubrir con mis ojos la distancia de la silueta de mis miedos, mi vista fallaría antes de alcanzar los extremos que marcan la sombra del gigante.
Pensé que me encontraba perdido, pensé que no tenía solución caminar a algún lado. Hasta que me senté a tu lado a contemplar las enormes grietas de la gran roca, los nudillos de la tierra misma que se levanta poderosos en el horizonte.
Son testigos silenciosos de un gran poder y señorío, de uno más allá de mi propia compresión. Son guardianes valerosos, vigilantes de la calma que debe arropar a todo en que sufre por el frio de las adversidades.
Al notar sus sobrios rostros me invadió una sensación de paz. Mis problemas parecieron efímeras luces destellantes, tenues punzadas de escorpiones que pican en un sueño pasajero. Me quedé admirado por la grandeza de esas montañas, de lo particularmente hermoso de sus texturas, de lo inmutable de su valentía ante los vientos y las avalanchas de nieve.
Aires de libertad del temor se colaron por debajo de mis alas, y me llevaron por la plenitud del cielo para contemplar con mejor visón mi panorama; para replantear mis propósitos. Ya no cargaba con el peso desalentador de pensamientos negativos.
¿Quién hizo estás cosas para que las admiráramos? ¿Quién tiene una fuerza tan enorme como para mover a estos guardianes de lugar? Seguro que tiene fuerza y sabiduría suficiente para ayudarme a enfocar mis ideas, para evitar que pierda la cordura ante las amenazas.
Fascinado tardé horas en aterrizar, en levantarme de mi lugar para volver a mi nido. Bocanadas de aire fresco tomé antes de partir, y no me contuve de gritar con todas mis fuerzas antes tan majestuoso lienzo vivo.
---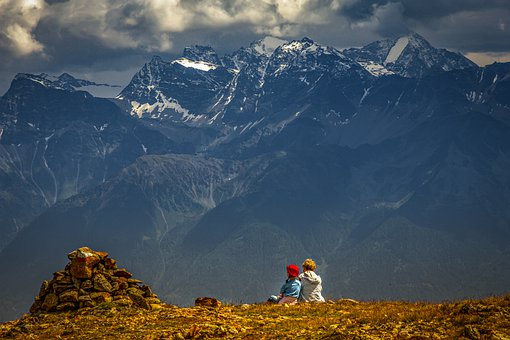 Esta invitación es solo para 100 personas, no pierdas la tuya: https://discord.gg/jCS6kZ4
---
By @latino.romano
If I were to measure with my hands the limit of my anguish, I would lack hundreds of meters of fingers and palms to satisfy the demand.
If I wanted to cover with my eyes the distance of the silhouette of my fears, my sight would fail before reaching the extremes that mark the shadow of the giant.
I thought I was lost, I thought I had no solution to walk somewhere. Until I sat next to you to contemplate the enormous cracks of the great rock, the knuckles of the earth itself that rises powerfully on the horizon.
They are silent witnesses of great power and lordship, of one beyond my own comprehension. They are courageous guardians, watchful of the calm that must envelop everything in which it suffers from the cold of adversity.
Upon noticing their sober faces I was invaded by a sensation of peace. My problems seemed to be ephemeral flashing lights, tenuous punctures of scorpions that sting in a passing dream. I was amazed by the greatness of these mountains, by the beauty of their textures, by the immutability of their courage in the face of winds and snow avalanches.
Airs of freedom from fear slipped under my wings, and took me through the fullness of the sky to contemplate my panorama with better vision; to rethink my purposes. I no longer carried the discouraging weight of negative thoughts.
Who did these things for us to admire? Who has such enormous strength to move these guardians of place? Surely he has enough strength and wisdom to help me focus my ideas, to prevent me from losing my sanity in the face of threats.
Fascinated, it took me hours to land, to get up from my place and return to my nest. Mouthfuls of fresh air I took before leaving, and I did not hold back from shouting with all my forces before so majestic living canvas.
---